What I Reading & Watching...Recommendations!
Due to snow and me also being home sick, I've read and watched a lot more than normal.
Here are a few of my favorite finds--
What I've Read:
Beth Ann Fennelly's HEATING & COOLING: 52 Micro-Memoirs
I love books I can just sit down with and finish --or-- read a couple little of these vignettes a day. Thoroughly enjoyed this book. Beth Ann is funny, poignant, and seems like someone you just want to hang out with. (Note: I did meet her at AWP one year and she was just wonderful--that kindness and graciousness comes through in her writing.) She has always been one of my favorite poets, so this was just a treat to read. I love how she looks at life and brings it onto the page.
SYCAMORE by Kathy Fagan

Now to be honest, this was a reread for me, I read Sycamore a few months after it came out (it came out from Milkweed Press, March 2017), but I haven't put it back on the shelf yet and every once in a while, I open it up and read it from front to back. Kathy Fagan makes me want to live in her poems. Kathy is also poignant yet funny. She is smart with sound, wordplay, and yet, her craft and narrative and style always keeps you grounded and enjoying the moment.



Movies/Documentaries/TV:
The Big Sick (free streaming on Amazon Prime)
I could probably watch anything Kumail Nanjiani is in. But this film, based on his real life was just a great way to spend the evening. And even though it's called The Big Sick, it's not depressing and sad, actually thoughtful and charming is how I'd describe it.

The movie is based on how a true-life experience that happened between him and his wife,

Emily

V. Gordon, who did get sick

in real life. (By the way, I saw an interview with Kumail and Emily, and she is absolutely adorable --here they are on CBS Sunday Morning (which is another favorite show of mine)
Right now, my favorite documentary is BILL MURRAY STORIES: Life Lessons Learned from a Mythical Man. It's based on all the "urban legends" of Bill Murray stories--crashing a wedding, showing up at party, etc. etc.

If you like Bill Murray or just want to think about living you life in a more playful, whimsical manner, you'll enjoy this. Currently, my favorite movie I've seen this year. And it's free and streaming on Netflix.
Grace & Frankie: Jane Fonda and Lily Tomlin crack me up. I've watched all 5 seasons and Season 6 coming in 2020. We need more shows featuring older women living their lives. I adore these two.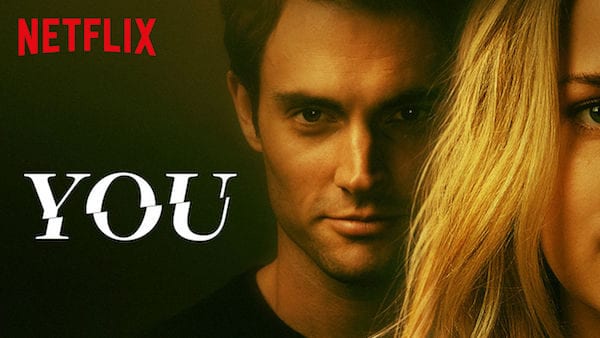 YOU: also streaming on Netflix, a Netflix original. Freakin' creepy, but I'm still watching. I started watching because I thought it was about a bookstore owner. It is! But dang, he's dark and not just poet-dark, but watch-your-back dark. His love interest is a writer, so I appreciate the literary aspect of this. Only on Episode 4, we'll see if I make it through the whole series.
~ Kells
________________
www.agodon.com
www.twosylviaspress.com