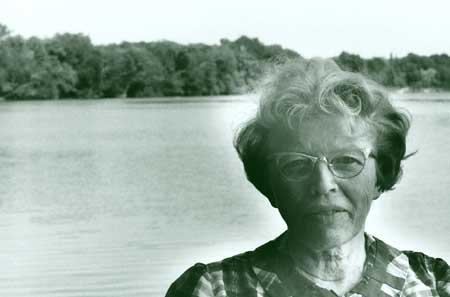 One of my favorite poets, yet probably one who is least known, Lorine Niedecker.
If you want to learn more about her, I recommend these two books:
Lorine Niedecker: Collected Works
and
America's Greatest Unknown Poet: Lorine Niedecker Reminiscences, Photographs, Letters and Her Most Memorable Poems
. (Also, click on the link to Jacket Magazine under her photo as they have good introduction to her.)
She writes a lot of shorter poems and she wrote a series of poems written on a small daily calendar, yes, she may have been the first to do a poem-a-day--
Here are a few of her poems --
[Popcorn-can cover]
[Mr. Van Ess bought 14 washcloths?]
Mr. Van Ess bought 14 washcloths?
Fourteen washrags, Ed Van Ess?
He drinks, you know. The day we moved
he came into the kitchen stewed,
mixed things up for my sister Grace—
put the spices in the wrong place.
The last 2 stanzas of "[
In the great snowfall before the bomb]"--
But what vitality! The women hold jobs--
clean house, cook, raise children, bowl
and go to church.
What would they say if they knew
I sit for two months on six lines
of poetry?