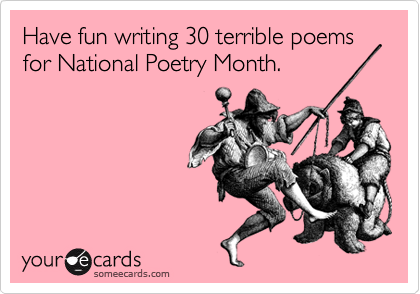 A reminder that First Drafts do not have to be perfect
So, I've been writing a poem a day.
What amazes me with this practice is how
discipline, deadlines, and accountability
produces poems.
Okay, you may be thinking, those are not the words normally associated with poetry. Where is
inspiration, creativity, and flow
?
Um ya, I have basically have sent those words to the back of the line because I promised my friend I'd email a poem to him every day this month. And here's the thing-- by being disciplined, saying "I'm going to sit down and write a poem today" - I do it.
Okay, it may not be the *best* poem, but I've accidentally been surprised at some of my drafts, and I've found there is definitely something to work with.
When I was in grad school, Marvin Bell would give us an assignment. As a class, we'd come up with 10-15 words and he would say, "Now go write a love poem with those words and don't use the word 'love'. Bring it to class tomorrow morning." At first, some poets were freaking out--
I can't write a poem in a day!
Here is what Marvin said, "If someone had a gun to your head and said,
Write a poem or I'll shoot, you would write a poem
. So maybe at 9 pm you won't have a poem, and at 10 pm you won't have a poem but sometime before your bedtime because you need to have something for class tomorrow, you will write a poem. It may not be the best poem, but you will write a poem."
And it was true.
Everyone arrived each day with a new poem. We did this process for a week.
What it was to teach us? -- We can write poems on demand, they may not be the best poems, but they are drafts, starts, something to work with.
It's hard for our mind to bump off and be inspired by a blank page, but put a few words down, a few images or ideas and your mind starts to connect things, starts to dig deep into past experiences and the poem grows.
My experience in writing a poem-a-day to my poet friend each April is this-- I am a loyal friend and I keep promises. I don't let him down. Every day I produce a new poem to send to him. He also doesn't miss a day. It's our unspoken rule, we know if someone misses a day it gives us both permission not to work as hard. So we don't. We write a poem day. Every day.
Sometimes they are shorter than we would like. Some poems aren't very good. Some poems may be revised to better poems. Some poems come out pretty dang well. By the end of this month, I will have 30 new drafts of poems to work with. 30 poems where there were none. To me, that is a miracle, that is
April is the Coolest Month
in word form.
I know if I waited for inspiration to knock on my door, I might not hear it or it might only arrive a couple times a year. Inspiration might arrive and I might be taking a bath.
So, I'm writing a poem a day, a hopeful act, a belief that it's important to
create
, to be
inspired
by a month full of poetry and participate, to fall into the
flow
of writing and lose myself. See, these words did come up, but just in a different order. Sometimes we need deadlines to produce inspiration, accountability to begin creativity and discipline to achieve flow.
Don't wait for the muse to come, she could be busy writing her own poem-a-day and forget to show up. Or maybe, she's already with you, just waiting for you to sit yourself down and write.
Happy writing, Friends.