While my husband makes pancakes and my daughter finishes her homework, I thought I'd grab a few moments before our annual Easter hunt to share some projects that have arrived in my mailbox this week that I feel thankful to be part of.
Here's the description from Red Hen Press:
LETTERS TO THE WORLD is the first anthology of its kind—a feminist collaboration born from The Discussion of Women's Poetry Listserv (Wom-po), a vibrant, inclusive electronic community founded in 1997 by Annie Finch. With an introduction by D'Arcy Randall and brief essays by the poets themselves reflecting on the history and spirit of the listserv, the book presents a rich array of viewpoints and poems. LETTERS TO THE WORLD is a remarkable example of how the Internet has radically rearranged associations among poets, editors, and readers.
My poem "In the 70's, I Confused Macrame and Macabre" is included in it, as well as poems from Ivy Alvarez, Judith Barrington, Barbara Crooker, Catherine Daly, Arielle Greenberg, Jilly Dybka, Susan Elbe, Julie Enszer, Annie Finch, Ann Fisher-Wirth, Kathleen Flenniken, Suzanne Frischkorn, Jeannine Hall Gailey, Kate Greenstreet, Marilyn Hacker, Anne Haines, Eloise Klein Healy, Luisa Igloria, Amy King, Amy Lemmon, Frannie Lindsay, Diane Lockward, Aimee Nezhukumatathil, Alicia Ostriker, Shin Yu Pai, Molly Peacock, Cati Porter, Susan Rich, Rachel Rose, CJ Sage, Peggy Shumaker, Martha Silano, Marilyn L. Taylor, Ingrid Wendt, Rachel Zucker, and many many many more poets and my apologies if I missed anyone.
It's an incredible anthology of feminist poets and one I've enjoyed browsing through these last couple days.
*
Also in my mailbox this week was the finished project from Kristy Bowen's Dancing Girl Press, a box anthology of poems!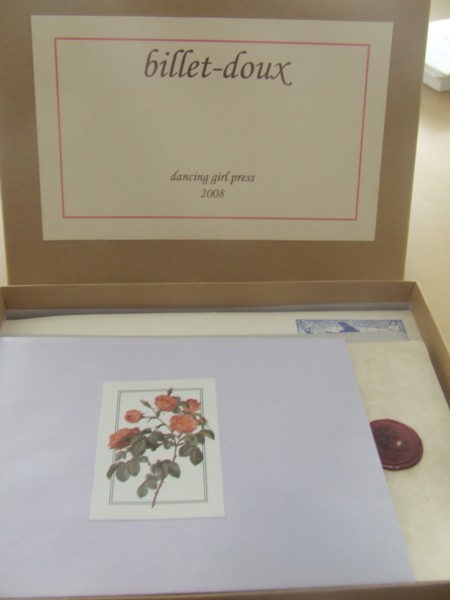 If you were a fan of the Griffin and Sabine books as I was, this project may be something you'd love to have for your own.

It's called billet-doux and what it is a box of ten poems each created originally for the reader by the poet. Some are like letters you have take out of an envelope, some you have to break the seal.
It's probably one of my favorite projects I've ever been part of. I loved the idea of it from the beginning, a box of poems. Better than a box of chocolates, (and coming from me, that means a lot).
Here's Dancing Girl Press's description of it--
This special dancing girl press limited edition collection of missives is sure to entice and delight. 15 poets. 15 love letters. Each piece written and designed by the poet themselves and collected in a lovely box. A volume sure to thrill the poetry and art lover (as well as the occasional voyeur.)
Each box includes letters, postcards, and prints by Jane Pupek, Erin Bertram, Bronwen Tate, Michaela Gabriel, Cecilia Pinto, Shawn Fawson, Diane Kendig, Christine Hamm, Jeannette Sayers, Suzanne Frischkorn, Annie Finch, Emma Bolden, Julie Enszer, Ariana-Sophia Kartsonis, and Kelli Russell Agodon
You can order one here (there are only 100 of these, so if you do want one, order early so not to be disappointed), go here.
billet-doux
dancing girl press, 2008
$22.00 (includes S&H)
Edition of 100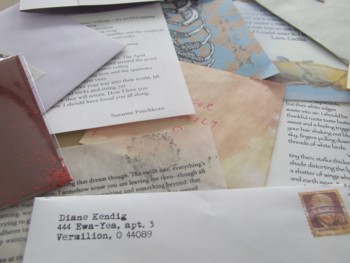 *
So the mailbox has sung happy songs to me this week. Lovely mailbox.
By the way, this is not my real mailbox, but I think I'll be painting mine this week. Any suggestions?